Dinner Cruise Menu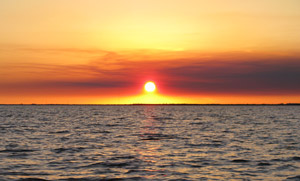 Dinner during your sunset cruise is a never-to-be-forgotten experience.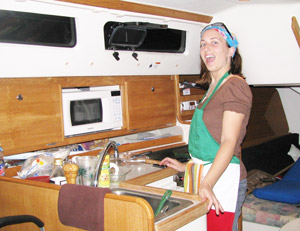 Our fabulous Chef MiMi will prepare your meal.
$75 per Guest
Gratuity not included
Appetizers and Salads
Pick 2 per guest
Heirloom Tomato Bruschetta — Heirloom tomatoes, fresh basil, balsamic vinegar and olive oil with garlic rubbed crustimis
Shrimp cocktail — 3 large Gulf pink shrimp with a spicy cocktail sauce
Mozzarella Sicilian — Buffalo Mozzarella toped with Heirloom Tomatoes, fresh basil and aged balsamic vinegar
Fresh Arugula — toasted pine nuts and shaved asiago cheese with a light lemon and olive oil dressing
Fresh Endive — Frisee and Orange salad with a honey balsamic vinaigrette
Caesar Salad — Fresh Romaine lettuce, homemade salad dressing and croutons
Main Course
Pick 1 per guest
Served with garlic mashed potatoes and pan sautéed green beans with almonds.
Tuna with Basil Pesto — Sushi grade tuna grilled rare to med rare with a basil Pesto sauce
Filet Mignon — 6oz Certified Black Angus Filet Mignon grilled to taste served with béarnaise sauce
Surf & Turf — 7 oz Certified Black Angus New York Strip grilled to taste with a grilled warm water lobster tail served with béarnaise sauce and drawn butter
Dessert
Pick 1 per guest
Créme Brule — the classic with a hint of Grande Marnier
Fresh Fruit Tart — prepared by Julien's French Bakery
Mixed Berries — Served with Mascarpone Cream
Drinks
Sparkling water, bottled water, Coke, Diet Coke, Sprite, Coffee
For any Drinks with Alcohol BYOB
Please make your selections and return to your Captain 36 hours in advance.