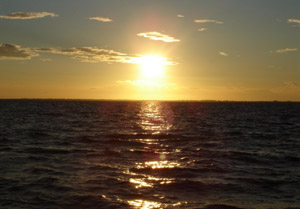 The most popular sailing option is our Sunset Cruise which is 2 hours in duration, leaving the dock about 1 1/2 hours before sunset.
All our charters include a Captain, and you are free to do as much or as little of the sailing as you wish. Enjoy a Sunset, half day, full day, or two to three days exploring Charlotte Harbor or the Gulf Islands aboard our gorgeous 31' Catalina 'Eliora'. You may have up to 6 guests for day trips and up to 4 guests for overnight cruises. Nights may be spent on the hook or in a marina.
All Charters are with a Captain
Captained Charters on the Catalina 310

Prices are per boat, up to 6 guests for day trips and up to 4 guests for overnights.

Length of Charter
Rates
Description
Sunset
$250*
2 Hours
Leaves 1 1/2 hours before sunset
Two Hour
$250*
2 Hours
Usually morning or early afternoon
Half day
$400*
4 Hours
Usually 9am-1pm or 1pm-5pm
Full Day
$750*
8 Hours
Usually 9am-5pm
2 Days
$2,000*
2 Days sailing and 1 night at anchor
Usually 9am-5pm next day
3 Days
$3,000*
3 days sailing and 2 nights at anchor
Usually 9am – 5pm the last day
*Plus tax and gratuity, bring your own food and drinks. Prices are per boat, up to 6 guests for day trips and up to 4 guests for overnights.

Contact us for custom packages – we will work around your schedule
If you would like to overnight in a marina instead of at anchor, please let us know. This option is subject to availability – we will need to book the slip in advance and marina fees will apply.
| | |
| --- | --- |
| Eliora under sail | |
Sailboat Cruise Details
Sunset Cruises in Charlotte Harbor
About 2 hours in duration. We leave the dock 11/2 hours before sunset. If you are looking for a spectacular date night, try gliding along the Harbor at dusk as the orange sun dips below the horizon.
2 Hour Cruises in Charlotte Harbor
2 hours is a perfect amount of time to get out on the water, relax, and enjoy the scenery. We can leave the dock at any time of the day, just let us know what you would like and we will do our best to work around your schedule.
Half Day Cruise in Charlotte Harbor
Half day trips are 4 hours of sailing in beautiful Charlotte Harbor, with your choice of either the morning or afternoon. Or schedule it so you can watch a wonderful sunset!
Full Day Cruise in Charlotte Harbor
Full day trips are 8 hours in duration, bring your picnic lunch and drinks for a great day on the boat.
2 Day, Weekend, or 3 Day Venice Cruise, Captiva Cruise, Sanibel Cruise, etc.
On these sailing trips you will spend your night(s) on the boat at anchor. You may choose to go to Boca Grande or Cabbage Key; or further south to Cayo Costa, Captiva or Sanibel; or maybe go north to Venice. You can spend the days sailing, swimming, walking around one of the islands, and then have dinner at a marina restaurant or bring a picnic to the boat in the evening. Stay at a marina for the night (extra), or stay at anchor while watching a gorgeous sunset.
What to Bring
Non-slip shoes, a hat, sunscreen lotion, windbreaker, snacks & drinks and any gadgets you just can't live without. (If you are going out overnight we will email you a complete list of recommendations at the time of booking.)
Our Captains
By having an experienced Captain aboard you are able to relax, and do as much or as little of the sailing as you wish. All of our Captains have many years of sailing experience, and are licensed by the United States Coast Guard as well as being ASA Certified sailing Instructors. Their first concern is your safety. They are all congenial and light hearted, but because they are responsible for the safety of the crew and ship, they should be obeyed at all times.
Size of Groups
Day charters are limited to a maximum of 6 passengers, and 4 guests for overnights. Preschoolers are not well suited for these trips.
Bookings
When we confirm availability of ship and crew for the time you request for charter, a 25% deposit will be taken.
Rescheduling: We will make every effort to accommodate your schedule. If you contact us prior to 48 hours of the sailing date to reschedule, there is no penalty.
Cancellations: Please cancel more than 14 days out to get a refund on your deposit, if you cancel your trip within 14 days of the sailing date the deposit is forfeit. If part, or all, of the trip gets cancelled or shortened because of severe weather, you will be offered an appropriate prorated refund or a rebooking. Another option is to keep the deposit as a credit with us, to be used for future lessons or a charter. Weather decisions are made at the boat.
This is a Drug Free Vessel:
Captains and Instructors: All our Captains/Instructors are in accordance with Coast Guard regulations, and they submit to regular random drug testing.
Passengers: No drugs of any kind are allowed on board, and the Captain is required to immediately notify the Coast Guard if drugs or paraphernalia are discovered aboard. Possession of a Medical Marijuana card does not allow its possession or use on board, nor does it mitigate the Captain's responsibility to alert the Coast Guard.
| | |
| --- | --- |
| Another Gorgeous Sunset in Charlotte Harbor | Sailing by Fisherman's Village |