Are you concerned about your boat when you are gone? Would you like someone to check on it while you are away for the summer or while on vacation? Have one of our Captains stop by periodically, and we will email a notice letting you know the status of each boat visit.
Our Captain will check on the boat, lift and dock, and immediately report any issues. You may create a custom checklist to be gone through as often as you like; every week, every month or even every few days. Choose from a simple visual check outside the boat, or a thorough check of all systems including electronics.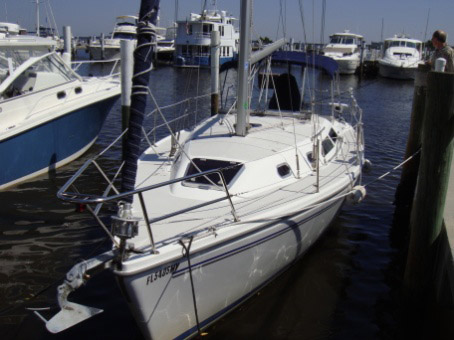 Common requests are:
• Ensure that the lines are secure, and fenders are in place
• Check sail covers and deck canvas
• Make sure hatches and companionways are locked and secure
• Visually check the boat lift and dock
• Ensure shore power cord(s) are connected
• Make sure the battery is charging/charged
• Check that the bilge pump is running correctly
• Vacuum out any standing water
• Make sure the A/C and/or dehumidifier are running
• Check that no mildew or mold are forming
• Check for cabin leaks or any water intrusion
• Run the engine and generator periodically
• Flush the heads periodically
• Report status of the boat after a tropical storm
Boat Sitting

Rates vary depending on what services you would like to be performed, as well driving time to the boat.

Location of Your Boat
Price Per Visit
Punta Gorda Isles
$25-$35
Port Charlotte
$35-$45
Burnt Store
$55-$65
Englewood
$75-$85
Placida/Cape Haze
$75-$85
We offer boat sitting at your private dock as well as public marinas and boatyards.

Contact us for a quote to a different location, a sample agreement or any other questions you may have.

Important Notes:
Please note that if a hurricane or storm is coming , there is really no way to guarantee the safety of the boat. In the event of bad weather or if a hurricane warning is given out, the owner is responsible for protecting the boat as needed. Charlotte Harbor Sailing, LLC will not be responsible for moving, securing or bracing the boat in any way.
Charlotte Harbor Sailing, LLC will report visible damage only; all boat and/or dock maintenance including bottom-cleaning, zinc replacement, engine maintenance, repairs, inside cabin/mold cleaning, etc are the responsibility of the boat owner.
The owner is to make sure all insurance policies are up to date and shall carry all necessary coverages for the boat and understands that Charlotte Harbor Sailing, LLC does not carry any insurance for said vessel.